One of the first few things that we really looked for upon transferring to Singapore is water filters. Our own experience with relying on filtered water deliveries did not go smoothly and proved to be more costly in the long run. Water filters are an excellent investment for both residential and office spaces. It gives you the peace of mind of continually having access to clean and safe water.
If you are still looking for the right best filter for your home or office, check out these top best 7 water filters that you can find in Singapore:
Table of Contents
Best Water Filter Comparison Table
Pros and Cons of Water Filters
Conclusion
1. Konka Tap Water Purifier

Easy to Install
The Konka Tap Water Purifier is essential for clean, safe and healthy drinking water. It's a great choice if you're looking for a reliable filter that removes lead and fluoride without sacrificing taste or quality. The advanced nine-layer filtration system utilizes ceramic composite material to ensure only pure, contaminant-free water reaches your glass. Furthermore, the convenient switch between regular tap water and filtered water makes obtaining fresh drinking water on demand easy.
Installation of the Konka Tap Water Purifier is also hassle-free, including several accessories compatible with most faucets. Best of all, its operating temperature range makes it supremely versatile in any climate! This means no matter what time of year it is; you'll always have access to clean drinking water at your fingertips.
So overall, there are plenty of reasons why you should choose the Konka Tap Water Purifier when deciding about your home's drinking supply. Whether you're seeking improved health or simply want crystal-clear H20 daily, this purification solution will ensure each sip adds something special! For premium care from one snap installation onwards – get yours today!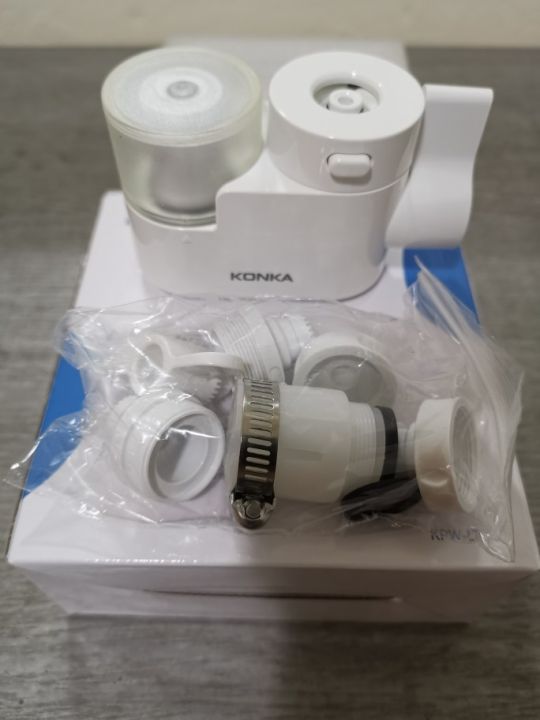 Pros:
Removes lead, fluoride, and other contaminants present in water
Fast & effective filtration of 4 water bottles (16.9 oz each) in 1 minute
It can be used over a wide range of temperatures up to 100°F / 38°C
Cons:
Not compatible with pull-out, hand-held, spray-style faucets or faucets with sensors.
Check Best Prices on Lazada
Check Best Prices on Shopee
2. Philips On Tap AWP3600
Easy Rotating Interface
The Philips On Tap AWP3600 is a great product if you are looking for clean and safe drinking water. The X-Guard filter has been upgraded and effectively removes 99% of residual chlorine in the water, making it much safer for consumption. It also features food-graded ABS material and natural activated carbon that help absorb any unpleasant smell in the water.
With this product, there's no need for complicated tools or multiple steps when setting up! Simply rotate the interface to get started; it's that easy! It also tells you when it's time to change your filter, so you don't ever have to worry about running out of clean water anytime soon, as it can provide up to 1000L3 of total water volume from just one filter alone.
In conclusion, if you want a reliable source of clean and safe drinking water with little effort required, then look no further than the Philips On Tap AWP3600 – buy yours today before they run out!
Pros:
Removes 99% residual chlorine in water for healthier drinking, cooking, and washing.
Made with food-grade ABS material and naturally activated carbon to absorb odours.
The filter cartridge is easily replaced manually after 90 days of use and has a total water volume capacity of 1000L3.
Cons:
It might be difficult to install and require external assistance.
Check Best Prices on Lazada
Check Best Prices on Shopee
3. novita Faucet Water Purifier NP180
Eco-friendly Sprinkle Option
The Novita Faucet Water Purifier NP180 is an all-in-one solution for quality drinking water. A two-step ultra-purification system eliminates up to 99% of free residual chlorine and up to 99.99% of bacteria in water. You can eliminate the bad stuff while retaining essential minerals for healthy hydration! On top of that, it has a simple filter lifespan indicator that alerts you when it's time to change your filter – no more guesswork on when exactly you should replace your filters.
Another great feature offered by the NP180 is its sprinkle option which helps conserve up to 33% more water compared with other faucet filtration systems! Not only does this reduce water wastage, but also significantly lowers utility bills over time – perfect if you're trying to save some money every month or cut down on your carbon footprint due to excessive usage of resources.
If you value clean & healthy drinking water without burning a hole in your pocket, then look no further than the novita Faucet Water Purifier NP180 – the ideal choice for any household and environmentally conscious households alike! So do yourself (and nature) a favour by investing in one today; not only will this great product keep pollutants out, but it will also put money back into your wallet simultaneously!
Pros:
Instantly provides purified water straight from the tap.
Removes up to 99% of free residual chlorine and effectively improves taste and quality.
Advanced Ultra Hollow Membrane Filter removes up to 99.99% of bacteria & suspended colloids of up to 0.1-micron size while retaining essential minerals in the water.
Cons:
Requires frequent filter replacements.
Check Best Prices on Lazada
Check Best Prices on Shopee
4. PHILIPS On Tap Water Purifier WP3961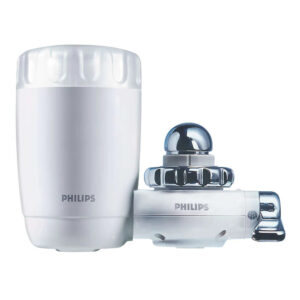 Silver-coated Active Carbon
The PHILIPS On Tap Water Purifier WP3961 is an excellent choice for anyone looking to enjoy cleaner, tastier water in their home. Its Quick Twist filter change mechanism ensures easy and secure replacement of the filter without fuss, while its Pure Taste filter works hard to remove chlorine, bad tastes and smells, and sediment from your tap water. An additional silver-coated active carbon helps prevent bacteria growth inside the filter. Moreover, with the Pure Protect alert, you'll always stay one step ahead of when it's time to replace filters, thanks to an easy-to-apply sticker that stays active until it needs replacing.
Adding this product into a home makes keeping clean drinking water ready for consumption a breeze. It consumes no energy while providing maximum performance which means no extra bills running up thanks to this purifier being plugged in. As well as removing contaminants from regular tap water, it also provides peace of mind due to its advanced bacterial protection, which keeps users safe when consuming the final purified liquid from their faucets or taps at all times!
To recap; this Philips On Tap Water Purifier comes highly recommended and should be seriously considered due to its ease of installation, low energy consumption during use and robust protection against nasty microbes entering our systems via contaminated drinking liquids! Drinking cleaner, healthier and better-tasting water can now easily be achieved with just one decision – why wait? Grab yours today!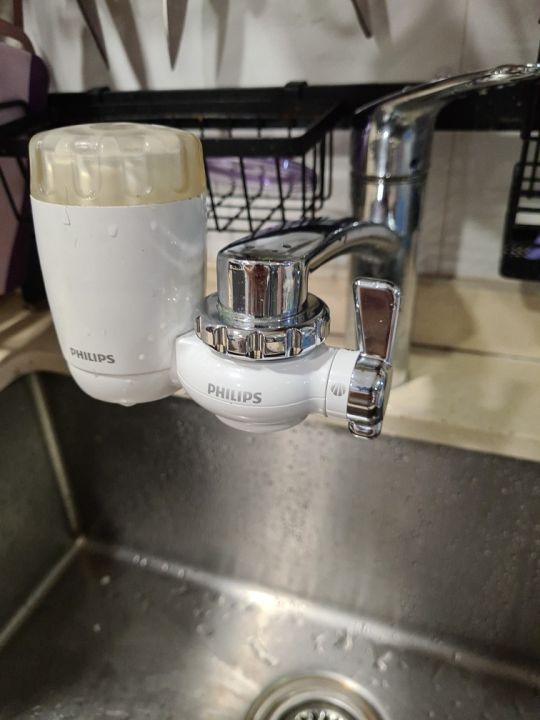 Pros:
Removes unpleasant chlorine, bad tastes and smells, as well as large sediment from tap water
Pure Protect alert sticker allows users to mark the month of replacement for timely filter change
Quick Twist filter change mechanism makes changing the filter quick, easy and secure
Cons:
The filter needs to be replaced often, which can add up in costs over time
Check Best Prices on Lazada
5. PHILIPS WP3828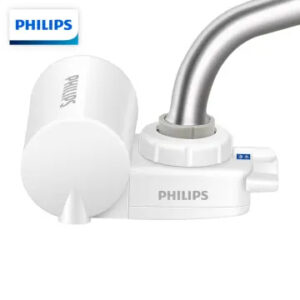 With Water Control System
The Philips WP3828 is an impressive water purifier with many useful features. First, it's equipped with specialized filter technology that effectively removes chlorine and unpleasant odours from the tap, ensuring your drinking water always tastes great. Furthermore, it benefits from a smart water control system for optimal water flow adjustment – multiple outlet modes exist. Moreover, installation is incredibly simple, thanks to the QuickFit tap adapters included in the box!
As far as maintenance is concerned, this filter makes life so much easier, too: changing the filters can be done quickly and painlessly in three steps due to its buckle-type release and lock mechanism. This means you'll never have any trouble replacing them when their lifespan has expired – simply discard the one-piece filter when needed and replace it cheaply yet effectively.
If you're looking for a reliable water purifier that delivers excellent performance at all times, look no further than the Philips WP3828 Water Purifier! It offers outstanding quality filtering and easy installation and maintenance procedures – what more could you ask for? So don't wait around – make sure to purchase one today to enjoy pure taste-free drinking water daily!
Pros:
Removes residual chlorine and odours effectively
Buckle type release and lock filter changing mechanism
QuickFit tap adapters provide easy installation
Cons:
Not suitable for cold water
Check Best Prices on Lazada
Check Best Prices on Shopee
6. Instapure F2
Long Lasting Filter
Instapure F2 is an excellent product that provides clean, great tasting and healthy water for a fraction of the price of bottled water. Its quick-to-install, easy-to-use selector switch and long-lasting filter make it ideal for anyone looking to drink healthier without breaking their budget.
The long-lasting filter has an expected lifespan of 3 months or 750 litres, so you won't have to worry about replacing the filter too often. Plus, its easy-change design makes maintenance hassle-free – no need to hire professionals just unscrew one end and screw in a new cartridge yourself! This quality filtration system ensures clean drinking water and peace of mind knowing you protect your loved ones from harmful contaminants in regular tap water.
If you're looking for superior taste, freshness and value – Instapure F2 is an excellent choice! Save money, protect your family's health, and enjoy drinking clean, filtered tap water daily with this amazing Instapure filter – get yours today!
Pros:
Cost-effective alternative to bottled water
Easy installation on all standard taps
Convenient selector switch between filtered and unfiltered water
Cons:
The installation process can be complicated and time-consuming.
Check Best Prices on Lazada
Check Best Prices on Shopee
7. Doulton Utracarb 9504
High-Efficiency Filter Performance
Doulton Utracarb (9504) is an advanced water filter that provides heavy metal reduction and a safe drinking experience. It features a 10″ long, 2″ diameter activated carbon block insert to help reduce heavy metals from the water and remove pathogens, cysts, particles, chlorine, and organics. The 3/4″ short mount allows for easy installation in addition to its high-performance 0.8kg filter with Lead removal capabilities. These features make this product one of the most reliable solutions for getting clean and safe drinking water.
The benefits offered by this product are great – first off, it eliminates impurities such as lead which can cause serious health issues if present in our drinking supply system; secondly, its multiple filtration capabilities, including microbial removal, means that superior quality h2o is produced every time; finally, its compact size makes it easy to install and also helps conserve space while still providing excellent filtration results.
Doulton Utracarb 9504 provides an effective solution for ensuring clean drinking water free from toxins or pollutants that could be harmful to your health or your family's health over time! Taking advantage of all these features will greatly impact consumer's life, so take action today and upgrade your current filtration system with Doulton Utracarbt 9504!
Pros:
Effectively reduces particles, pathogenic bacteria and cysts
Removes chlorine, organics and lead
Compact size allows for easy installation in small spaces
Cons:
High cost compared to other filters
Check Best Prices on Lazada
Pros and Cons of Water Filters
Understanding the pros and cons of water filters is an important step in determining which type of filter best suits your needs. Read on to learn more about the advantages and disadvantages of the various water filters available!
Pros
Water filters are a great way to provide your family with clean and safe drinking water. They effectively remove many harmful pollutants, heavy metals, and other contaminants from tap water that can cause health issues. Furthermore, they come in various types, such as reverse osmosis, carbon filtration, UV filtration etc., to meet a wide range of needs depending on the type of contaminated water you have. Water filters help reduce unpleasant smells or odours caused by chlorine or bacteria and improve the flavour of the water significantly by producing healthier-tasting drinking water for your family's consumption. In addition to this, these devices are reliable and easy to install, requiring very little maintenance over their lifespan, which makes them cost-efficient as well.
Cons
When it comes to water filters, there are a few drawbacks that need consideration. Firstly, the cost of installation and setup for some water filter systems can be expensive due to their complexity. On top of this, regular maintenance is also needed, which can add extra costs in the long run. Additionally, some water filters, such as reverse osmosis, require a large amount of electricity which leads directly to an increase in energy bills. Finally, many water filtration systems may not be able to remove every single impurity from your drinking water, so certain contaminants may still seep through, leaving you with unhealthy tap water despite having a highly effective filter system installed.
Conclusion
In conclusion, there are a variety of different water filter options available in Singapore. From reverse osmosis to carbon filters and UV filters, it is important to consider the type of contaminants present, cost, maintenance requirements and efficiency when choosing the best water filter for your needs. Each has its own merits and demerits, so be sure to weigh out all factors before making your purchase. Ultimately, with the right knowledge, you can decide which water filter will provide you with clean and safe drinking water not only now but well into 2023!