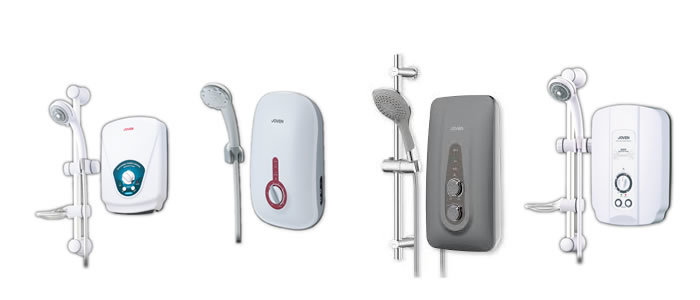 Despite being a tropical country, the demand for water heaters in Malaysia has been steadily increasing. This is primarily because of the ability of water heaters to upgrade the overall value of property easily. With Malaysia being home to several expats, condominiums and residential properties now consider water heaters as a basic part of the shower area.
Several brands are being introduced in the market, but it's essential to choose those that are built to last, especially if it will be used for a property on lease. Here are our top choices of water heaters in Malaysia.
Table of Contents
Best Water Heart Comparison Table
How does Water Heater work?
Factors to Consider
Comparison Table
1. Midea MWH-38Q Water Heater
Low Noise DC Pump
The Midea MWH-38Q Water Heater is a great choice for those looking to upgrade their water heating systems. It features an 8kW power output, which significantly improves the hot water performance compared to most traditional models. Additionally, its ELCB and overheat protection provide an extra layer of safety while its Ag+ antibacterial technology ensures that your water supply remains clean and hygienic at all times.
One of the biggest advantages of the Midea MW-H38Q is its low-noise DC pump with anti-dry-heating protection which eliminates any potential noise disruption in your home from excessive thermostat cycling or running pumps too long. Plus, it comes with a precise thermal cut-out feature with double relays — this helps prevent dangerous overheating around your property in case something goes wrong with the system and helps protect both you and your family from any accidental harm caused by electrical accidents or other similar malfunctions.
All in all, if you're looking for a reliable and safe way to heat up your home's hot water supply then look no further than the Midea MW-H38Q Water Heater! With its powerful energy-efficient components combined with numerous safety features such as ELCB & Overheat Protection as well as precise thermal cuts, this product provides strong and steady performance as well peace of mind when it comes to safety standards – what more could you ask for? So go ahead – order yours today!

Pros:
Provides precise temperature control for exact water temperatures
Eco-friendly copper heating element produces minimal environmental emissions
Ag+ Antibacterial helps prevent bacteria growth and contamination in stored water
Cons:
Complicated installation process
Check Best Prices on Lazada
Check Best Prices on Shopee
2. Panasonic DH-3LS1MW Instant Water Heater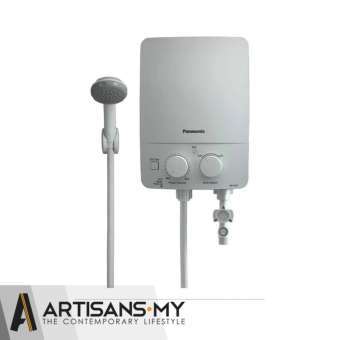 Simple and Easy to Install
The Panasonic DH-3LS1MW Instant Water Heater is an excellent product for anyone looking to install a reliable and safe hot water system in their home. With 9 Safety Points, you can rest assured that your family will be safe from potential accidents. This heater also comes with a 6kW Non-Pump Instant Heating System for quick heating, as well as adjustable flow rate settings so you can enjoy the perfect shower experience every time.
What makes this heater stand out, even more, is its easy installation process which requires minimal tools and requires little maintenance due to its robust design. This means that once it's installed, you don't have to worry about any additional costs or time spent on upkeep! Additionally, since this model comes with a 1-Way Shower Head, you can adjust the flow rate depending on your needs – whether it's a relaxing bath or an invigorating shower – without damaging the system itself.
In conclusion, if you're searching for an efficient and resilient water heating solution then look no further than the Panasonic DH-3LS1MW Instant Water Heater! With all its features combined together such as 9 Safety Points, a 1-Way Shower Head with adjustable flow settings and an easy installation process it promises great results while being able to save money and time on both short-term and long-term basis! Don't hesitate anymore – invest in this amazing product today!
Pros:
Provides a range of standard home shower functions
Features 9 safety points for secure usage
Equipped with a 3.6kW Non-Pump motor and 1-Way Shower Head
Cons:
Not suitable for large families with frequent hot water needs
Check Best Prices on Lazada
Check Best Prices on Shopee
3. Midea MWH-38P3 Water Heater
Reliable Temperature Control
The Midea MWH-38P3 Water Heater is an excellent choice for homeowners looking to upgrade their hot water systems. This energy-efficient heater utilizes step-less electronic pump control, ensuring consistent and reliable performance. It also features a built-in ELCB that automatically shuts off if there's a ground fault detected in the unit. A further safety feature of this product is its overheat protection which helps regulate the maximum temperature of the hot water delivered by this product. Additionally, it also uses Ag+ antibacterial technology to prevent bacterial residue deposits from building up inside the tank while providing customers with clean and safe hot water at all times.
Aside from these enhanced safety features, customers can benefit from the convenience provided by this product. Its digital display makes it easy for users to adjust settings such as temperature without having to remove any parts or components from within the heater itself! This allows for quick adjustments even when you are away on vacation or simply don't have enough time to tinker with complicated manual switches or other mechanisms found in older models of heaters. In addition, its compact design lets you easily install it almost anywhere without losing too much space inside your home thanks to its slim profile and low profile footprint!
If you're looking for a practical yet reliable way to ensure access to clean and comfortable hot water all year round then look no further than investing in a Midea MWH-38P3 Water Heater today! With features such as stepless electronic pump control and ag+ antibacterial technology included – as well as convenient controls located on the unit itself – owners can be sure that they'll have access not just to effective but also peace of mind when it comes to picking out the optimal solution for their family's needs! So, why wait? Get yours now before supplies run out!
Pros:
Allows for energy-efficient performance
Built-in safety features protect against accidental overheating
Simple to install with its Japan JST Connector design
Cons:
Limited temperature range
Check Best Prices on Lazada
Check Best Prices on Shopee
4. Joven Instant Water Heater 880 Series
Aesthetic Design
The Joven Instant Water Heater 880 Series is a great choice for anyone looking for an energy-efficient, reliable water heater. With its sleek and stylish casing, this water heater looks great in any setting. It utilizes an energy-saving inverter DC pump that reduces power consumption by up to 50%, making it highly economical and environmentally friendly. Furthermore, the silent operation at less than 35dB ensures maximum comfort with minimal disturbance. Lastly, its double-layer 2K spray paint finish comes in two different colour options so you can choose the one that best suits your bathroom decor.
This water heater is designed to be both functional and aesthetically pleasing so you don't have to sacrifice style over substance when it comes to your bathroom design. Additionally, with its stepless electronic power control feature, you can easily adjust the temperature of your shower or bath at any time according to your needs while still conserving electricity as much as possible. All these features come together nicely to create a truly modern solution for heating water quickly and reliably while keeping costs low.
If you are looking for an efficient yet stylish way of heating water instantly without breaking the bank then look no further than the Joven Instant Water Heater 880 Series! Its top-notch features make it a great addition to any home so why not give it a try today? You won't regret investing in such high-quality equipment that will never let you down!
Pros:
Maximises energy efficiency by up to 50%
Robust double layer 2K spray paint finish with two colour options
-Safety features such as thermostat with safety cut out and single pole EELS system
Cons:
Not suitable for areas with frequent power outages.
Check Best Prices on Lazada
Check Best Prices on Shopee
5. Toshiba DSK38S5MW
Different Shower Modes
The Toshiba DSK38S5MW Water Heater is an impressive addition to any home. With its advanced double relay safety protection system and innovative Whirl Water Flow technology, it provides unparalleled convenience for those who want hot water in the safest way possible. Furthermore, this heater offers different shower modes such as low flow and standard mode that make it easier to customize your experience. Additionally, the powerful 3800-watt rated power ensures you get hot water quickly no matter how much you need at once.
One of the best features of this water heater is its IP25 waterproof class which means that it can handle even wetter areas with ease. This waterproof rating also works together with the double relay system so that even if something does go wrong, there are multiple layers of protection in place for maximum safety against electrical shocks and other accidents in wet conditions.
3 Get your hands on a Toshiba DSK38S5MW Water Heater today and enjoy all these amazing benefits while feeling safe at every step! It's a great investment into our future comfort as it will make sure we'll always have quick access to hot running showers without having to worry about potential problems down the road.
Pros:
Double relay safety protection for peace of mind
Whirl Water Flow technology prevents scalding
Smart Control, Slash Proof, Safety Auto-Cut Off and Anti Leak Tank for added safety
Cons:
Check Best Prices on Lazada
Check Best Prices on Shopee
6. Panasonic DH-3RP1 Jet Pump
Insulated Structure
The Panasonic DH-3RP1 Jet Pump is a great choice for homeowners looking for an efficient water pump with low noise levels, electric shock protection and extra safety features. This product's insulated structure prevents you from getting shocked or injured due to contact with the electrical current in your pool or spa. Additionally, it is IP25 Water Splash Proof to keep any water splashes away from the electronics and mechanics of the device. Furthermore, its reinforced polyamide tank is made of fire/heat resistant material so you can be sure that your pump's performance won't suffer even if exposed to high temperatures.
Another great feature of this product is its manual reset thermostat that provides automatic power cutoff when over temperature occurs. This adds an extra layer of safety should anything go wrong while using your pool pump – allowing you to rest assured knowing that it won't cause further damage by operating at higher than-recommended temperatures. In addition, this machine has a powerful motor which offers a significant amount of flow without compromising on sound levels – meaning you can enjoy peace and quiet while having enough pressure in your pumps!
All things considered, the Panasonic DH-3RP1 Jet Pump doesn't just deliver on efficiency but also ensures optimum safety standards – making it perfect for use around children and pets alike! With its impressive technology combined with advanced insulation materials, anyone considering buying a new pool pump would certainly be wise to consider this product as their first choice! So what are you waiting for? Get yours today and experience all these amazing benefits firsthand!
Pros:
Provides powerful water flow with low noise operation
Water Splash Proof Case protects against water splashes
Built in Earth Leakage Breaker (ELB) to prevent electric shock
Cons:
DC pump can be noisy compared to other pumps
Check Best Prices on Lazada
Check Best Prices on Shopee
7. Joven Water Heater SA8E
Comes with Accessories
The Joven Water Heater SA8E is an incredibly stylish and efficient water heater, perfect for any home. It features a patented 8" showerhead that has three adjustable spray settings, allowing you to customize the experience according to your needs. With the stepless electronic power control, you can select the exact temperature level with just a simple turn of the dial. And with its ¼ turn valve operation, turning it on and off is effortless!
Not only does this product look great but also provides unparalleled convenience and safety thanks to its thermostat system which includes a safety cut-off switch as well as double poles EELS system for enhanced protection against electrical shocks. Whether it's delivering hot water for bathing or doing laundry tasks, this product will not disappoint in terms of quality and performance – making it ideal for all residential settings!
All in all, if you are looking for a reliable yet aesthetically pleasing water heater that offers plenty of customizable options while providing superior performance – then look no further than Joven Water Heater SA8E! So what are you waiting for? Get yours today and enjoy ultimate comfort every single time you take a shower or do some laundry!
Pros:
Easy to install and operate
Built with safety features, such as a thermostat with safety cut-out and double poles EELS system
Sleek and stylish design for an attractive look in the bathroom
Cons:
Not suitable for large households as it has a limited capacity
Check Best Prices on Lazada
Check Best Prices on Shopee
8. Rubine Rain Shower RWH-SSE851D-RCB
Auto Water Flow Switch
Rubine Rain Shower RWH-SSE851D-RCB is a perfect choice if you are looking for a luxurious showering experience. This shower system offers ultimate comfort with its DC Inverter silent Booster pump and Stepless Electronic Temperature Control. It has an extra safety feature that protects the user from any potential water surge or drop, which provides peace of mind when you're in the bath. Moreover, its built-in auto water flow switch ensures that there's no wastage of water when it comes to maintaining your preferred temperature. Thanks to the UL-approved High-Quality Heating Element technology from the UK, this shower will offer maximum performance and value for money at all times.
The Rubine Rain Shower RWH-SSE851D-RCB looks incredibly good in any bathroom setting and adds to the overall appeal of your home decor too! Its sleek design fits perfectly into almost any interior design style as well so whether you have a traditional look or a more modern aesthetic, this is definitely one product worth considering! With its advanced features as well as stylish design; having optimum comfort with efficient use of energy has never been easier before!
Therefore, if you're looking for absolute luxury in terms of luxury showers – then look no further than Rubine Rain Shower RWH-SSE851D-RCB! You won't regret investing in a product like this -it is sure to give your home an edge above others while providing maximum efficiency, convenience and safety simultaneously too! So what are you waiting for? Make sure to get one now since prices don't last forever and take advantage of high-quality products such as these while they last online today!
Pros:
60% Energy Saving Inverter Silent Pump
Elegant and slim design for a modern look
360' Rotating Diverter Shower for full coverage of the body
Cons:
Check Best Prices on Lazada
Check Best Prices on Shopee
9. Panasonic N Series DH-3NDP1MS
Large LCD Display
The Panasonic N Series DH-3NDP1MS is an excellent choice for those who want a high-quality and stylish shower experience. Its large LCD display provides a clear indication of the desired temperature, and its digital temperature control makes sure that it stays perfectly calibrated at all times. Additionally, its sleek design will fit in with any bathroom decor.
This top-of-the-line water heater also comes with some added benefits such as the Magic Health function which creates an incredibly comfortable and soothing shower time, while the stable 3D turbine jet pump technology ensures efficient operation even when water pressure is low.
All in all, this is a great product that offers both convenience and comfort to anyone looking for a luxury shower experience. With so many features included in one package, it's impossible to go wrong with the Panasonic N Series DH-3NDP1MS! So why wait? Get yours today and start taking advantage of these amazing features right away!
Pros:
Elegant design that matches bathroom décor
Reliable safety with a stylish appearance
Magic Health function relaxes the body and mind for a more comfortable shower time
Cons:
Lower water pressure than other models
Check Best Prices on Lazada
Check Best Prices on Shopee
10. Toshiba Rain Shower DSK38ES3MB-RS
Smart Control System
The Toshiba Rain Shower DSK38ES3MB-RS shower is cutting-edge technology designed to give you the ultimate relaxation experience. With its full body sprays and double relay safety protection, you can enjoy a thorough massage while feeling secure in the knowledge that your safety is taken care of. Its quiet DC pump provides calming noises without disrupting the ambience, and its smart control system with LED display allows for perfect customization of temperature so you can hit just the right spot. And with dual heating elements in its built-in water heater, it ensures that the desired temperature never strays outside your comfort zone.
This shower offers more than just a refreshing experience – it also helps improve your physical health by relieving muscle tension quickly and efficiently through targeted hydrotherapy massage jets. Its customizable temperature range allows for everything from gentle rinses to invigorating steam showers on demand; this makes this product especially useful for people suffering from chronic pain or athletes who need to loosen up after an intense workout session. Furthermore, all these features are packed into a sleek design that adds sophistication to any bathroom setting!
All in all, if luxury spa experiences at home are what you're looking for then look no further – Toshiba Rain Shower DSK38ES3MB-RS has got you covered! With modern characteristics such as full body sprays and reliable double relay protection combined with optimal temperature control thanks to its smart system interface, it redefines 'relaxing bath time' like never before! So don't hesitate – get yours today and start experiencing the rain shower's revitalizing effects first-hand!
Pros:
Safe and secure safety features
Wide range of shower settings to suit different needs
Dual heating elements increase the efficiency of the water heater and avoid scalding
Cons:
Installation may be complicated and require professional assistance.
Check Best Prices on Lazada
Check Best Prices on Shopee
How does Water Heater work?
Factors to Consider When Buying a Water Heater
When shopping for the best water heater in Malaysia, be sure to keep these important factors in mind, so read on to learn more!
Capacity
When buying a water heater, capacity is one of the most important factors to consider because it determines how much hot water can be supplied at one time. The size and number of people in your home will determine the ideal tank size you need. You should also take into account that if you are planning on taking long showers or running multiple appliances at once, then you will require a bigger tank to ensure an adequate supply of hot water. Generally speaking, storage tanks range between 20-80 gallons while tankless heaters offer output in gallons per minute (GPM). To get maximum efficiency out of your system, purchase the right-sized heater for your home's needs.
Efficiency
Efficiency is an important factor to consider when choosing a water heater. Generally, the more efficient a water heater is, the less energy it consumes and thus the lower its operating costs are. Today, there are many different types of water heaters with varying efficiency ratings such as conventional storage tank heaters, tankless on-demand systems, and solar-powered models that utilize renewable energy sources. While each type has its own individual pros and cons in terms of efficiency, some offer much higher overall performance than others – notably tankless systems which require no standby energy use when not in demand and can provide endless hot water without consuming any additional energy or power supply.
Cost
When looking for a water heater, one of the most important factors to consider is cost. Water heaters can range in price from just a few hundred ringgit up to many thousands depending on the type and capabilities that you choose. If you are tight on budget then it is worth considering an electric or gas water heater as these tend to be cheaper than other types such as solar or storage tank systems. Make sure to compare different models before making your decision, including any potential installation costs so that you get the best value for money from your purchase.
Safety Features
Safety is an important factor to consider when buying a water heater in Malaysia. Different types of water heaters are equipped with varying levels of safety features, such as thermostat control, temperature pressure relief valves (TPRV), automatic shut-offs and different leakproof designs. Additionally, storage tank models should also be installed by qualified professional plumbers for additional safety measures. Some higher-end models offer advanced technology such as smartphone connectivity and voice-activated controls that ensure increased safety and convenience for the homeowner. It is advisable to check out all available safety functions before making your purchase decision.
Warranty
When buying a water heater, it is important to consider the warranty. Most manufacturers provide a certain degree of standard coverage with each purchase. The individual details may vary based on the manufacturer, type of appliance and model itself but usually include some form of longer-term protection in case there are any issues with the product or its parts down the line. Make sure you read through all warranty information carefully before making your final decision to ensure that you have adequate protection against defects and accidental damage for as long as possible.
Conclusion
When it comes to choosing the best water heater for Malaysia this year, we have reviewed the top 10 models that are sure to provide you with an efficient, cost-effective and safe solution for your home. From gas water heaters to storage tank water heaters, there is something available for everyone. We hope our review has provided you with enough information that makes selecting a water heater easier. Now all that's left is to pick out one of these great options and give yourself a steady supply of hot water!