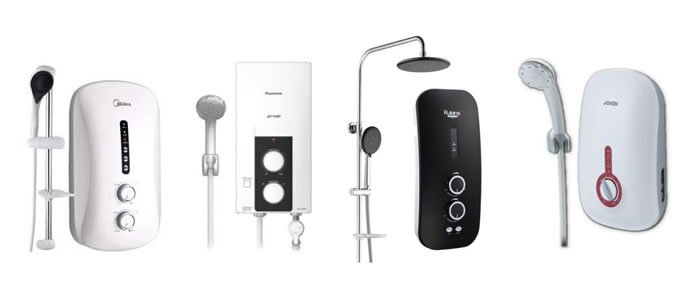 Despite being a tropical country, the demand for water heaters in Malaysia has been steadily increasing. This is primarily because of the ability of water heaters to upgrade the overall value of property easily. With Malaysia being home to several expats, condominiums and residential properties now consider water heaters as a basic part of the shower area.
Several brands are being introduced in the market, but it's essential to choose those that are built to last, especially if it will be used for a property on lease. Here are our top choices of water heaters in Malaysia.
1. Midea MWH-38Q Water Heater MWH38Q
Midea is a common brand that you will usually find in hotels, and this is primarily one of the reasons why we find it easy to trust this brand. It has been a leading supplier of home electronics in the past years and has even gained the trust of various industries.
Precise Thermal Cut out
Built-in auto flow sensor
No pump required
Overheat protection
This water heater will not require any pump, which means it is easier to install, with less intrusion on the overall structure of your bathroom, as well. You can get it at its best price here.
Check prices on Lazada
2. Panasonic DH-3LS1MW Instant Water Heater / Home Shower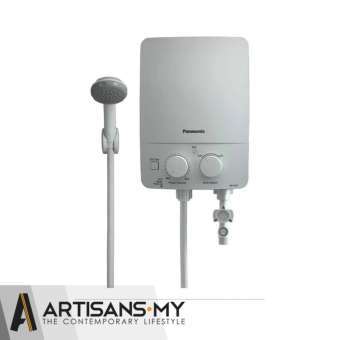 For houses that need a reliable water heater that is easy to use, we recommended this instant water heater from Panasonic. It is perfect for a small household and ensures the safety of its users.
One-way shower head
Low maintenance
Onsite warranty available in Malaysia
9 Safety point
One of the considerations in buying any electronic is the accessibility of their service centres wherever you are in the country, and Panasonic certainly has that covered. Buy a Panasonic water heater here.
Check prices on Lazada
3. Midea MWH-38P3 Water Heater Inverter DC Pump 3.8kW
This comes with a dual heating technology for a more efficient heating mechanism. It is also slim enough to fit even small bathrooms.
Whirl Flow Technology
Pump and Temperature Control
Temperature Stability
Quiet operation
Midea truly comes with all the necessary features that you need in a water heater, but with a more affordable price. Get it at its best price here.
Check prices on Lazada
4. Joven Instant Water Heater With Pump 880 Series – 880P
Joven is another famous water heater brand that we have proven to be safe and durable. It also comes with a flexible hose for more convenient usage.
Stylish JOMET Colour Casing
Build-In Booster Pump with Double Ball Bearing
Build-In EELS System with Surge Protector
Stepless Electronic Power Control
IP25 Splash Proof Protection
Enjoy a comfortable shower experience without that annoying burn from inconsistent water temperature. Buy and have a Joven Water Heater installed here.
Check prices on Lazada
5. Toshiba Instant Shower Water Heater DSK38S5MW (No Pump)
We particularly love the different shower modes making showering an even more relaxing experience, combined with its stable temperature.
Double relay safety protection
Whirl Water Flow technology
Superior safeguards
Toshiba certainly offers both comfort and safety in this instant water heater. It also heats fast, consuming lesser energy. This item is selling out fast, get it online here.
Check prices on Lazada
6. Panasonic DH-3RP1 Jet Pump Standard R Series Home Shower
If you want better energy efficiency for your electronic appliances, Panasonic has got a lot of options available, including this Jet Pump Home shower. It is best for families with kids, given its safety features.
Low Noise & Energy Saving DC Pump
Electric Power Control
Better Performance For Low Water Pressure – 4.9kPa
Manual Reset Thermostat
This series of the water heater from Panasonic is also water filter ready, should you decide to install one in the future. You can order this heater online at its promo price here.
Check prices on Lazada
7. Joven Water Heater SA8E
If you want to skip the hassle of installing your own water filter, this Joven Water Heater comes with its own filtering system for your safety and convenience.
IP25 Splash Proof Protection
Quarter turn valve made from long-life ceramic seal
Water and electricity saving feature
You can also choose from five spray pattern for an optimal showering experience. Joven also guarantees safety as it is IEC 60529 certified. You can get this water heater here.
Check prices on Lazada
8. Rubine Rain Shower Water Heater c/w DC Inverter Silent Booster Pump RWH-SSE851D-RCB
If you search for a water heater online, Rubine is one of the top brands that you will find in the results. This is no surprise given the company's established reputation in water heating technologies.
Splash Proof Protection
UL-Approved High-Quality Heating Element Technology from the UK
Rain Shower set Chromed Accessories
60% Energy Saving Inverter Silent Pump
Exhilarating 360′ Rotating Diverter Shower
Enjoy a luxurious shower experience with this water heater, that comes with both a handheld and rain shower head. Don't miss its best price here.
Check prices on Lazada
9. Panasonic N Series DH-3NDP1MS Instant Water Heater/ Shower (Jet Pump)
Add this elegant water heater to your shower room, which includes an LCD display panel for easier operation. The sleek appearance can easily add a luxurious touch to your shower room.
Power-One Push Stop System
Water One Push Stop System
Ag+ Crystal-Antibacterial Shower Head
Digital temperature control
The water heater pumping system also has a quiet operation, making it an ideal choice for those who have babies at home. Get this unique Panasonic water heater here.
Check prices on Lazada
10. Toshiba Rain Shower DC PUMP Silent Instant Water Heater DSK38ES3MB-RS
This is one of Toshiba's latest release, and it definitely is a massive upgrade from their previous water heater. It comes with its own digital temperature display with its Smart control system.
Precise temperature setting
Five shower modes
Whirl Water Flow Technology
Energy efficient
We find it really convenient to have this kind of water heater with so many features, but with significantly less energy consumption. You can buy this Toshiba rain shower here.
Check prices on Lazada
11. Alpha Shower Water Heater with Booster Turbo PUMP LH-5000EP
One of the things we love about this water heater is its thermal cut-off, which means that the power will automatically shut off if there is an abnormal rise in water temperature.
Double Relay ELSD
Nylon Fibre Internal, protection against electric shock
Strong and adjustable pressure
Booster turbo addresses the need for stronger water flow for a faster and more convenient shower experience. Alpha Water Heaters are now available for online purchase here.
Check prices on Lazada
12. Joven Rain Shower Water Heater Inverter Pump i90PRS
Its latest inverter pump makes for really silent operation. We also love the relaxing shower experience from the rain shower head.
Silent Inverter DC Pump
Rainshower
Built-In EELS System
Surge Protector
IP25 Splash Proof Protection
Joven has certainly perfected the temperature controls and accuracy of their water heaters, which is why their products are one of our favourites. Buy this water heater here.
Check prices on Lazada
13. Alpha Water Heater Smart 18I Plus Inverter DC pump Rain Shower
Want a sleek update to your current Alpha water heater? Check out this Smart rain shower with heater and enjoy its highly user-friendly functions.
Auto Test
Thermal Cut-Out
Nylon Glass Fibre Internal Construction
Splash-proof IP25 Standard
Electronic Temperature Control
The Smart technology of water heater basically offers users peace of mind that they will shower with utmost safety every time. Purchase the smart water heater from Alpha here.
Check prices on Lazada
14. Pensonic PWH968EP Water Heater WITH PUMP
Whether you want high or low pressure, this water heater from Pensonic gives you the best compromise with a comfortable shower experience.
Suitable for Low & High Water Pressure
Anti-leak and splash-proof Body Design
Stylist 5 Spray Pattern Showerhead
Purchase of this water heater also provides you with a complementary soap tray. It also has SIRIM approval, making it suitable for Malaysian properties. Get the best priced Pensonic here.
Check prices on Lazada
15. Panasonic N Series DH-3NS2MS Instant Water Heater/ Shower (Non-Jet Pump)
Panasonic simply just has the best warranty services here in Malaysia, so we are always confident to purchase from them, including this instant water heater.
Elegant & Compact Design
Electric Power Control (Analog)
New Shower Head – AG+ Anti Bacterial shower head
N series particularly offers luxurious shower experience and sleek packaging, so if you are looking for something to glow up your bathroom, this is an easy choice. You can buy it here.
Check prices on Lazada
How does Water Heater work?
Things to Consider In Buying Water Heater
Undoubtedly, water heaters add so much comfort and convenience to your shower experience. But not all of these water heaters may work for your space and lifestyle. Among the factors to consider is the installation area.
You should have a space that is near the outlets and other inputs. Those located in high-rise buildings should also inquire whether the water heater has its own pressure valve. Basically water heaters with 6 bars rating or more are ideal for condominiums and other elevated spaces.
Check out our top choices for water heaters in Malaysia below: