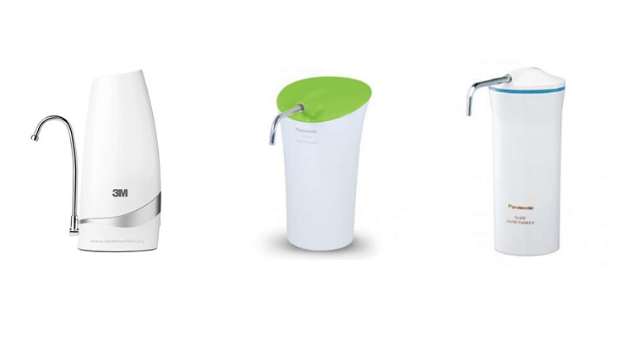 Having access to clean, safe drinking water is essential for our health. Unfiltered tap water can contain a multitude of contaminants that can have an adverse effect on our well-being. To ensure you are getting the best quality and most nutritious drinkable water, it is important to install a reliable filtration system in your home. With so many options available when it comes to selecting the ideal filter for your circumstances, how do you choose which one will provide you with the best results?
In this blog post, we look at seven of the best-rated water filters currently available in Malaysia that could be suitable for your needs – helping you make an informed decision about investing in a product that delivers long-term cost savings as well as healthy drinking water free from hazardous pollutants and heavy metals. If this sounds like something up your alley — stay put and read on!
Table of Contents
Best Water Filter Comparison Table
Factors to Consider When Choosing a Water Filter
Conclusion
1.
Joven JP200

Ergonomic Design
The Joven JP200 Water filter is an excellent choice for anyone looking to ensure they are drinking the cleanest and purest water. It features an inline filter cartridge that helps purify your water quickly, removing contaminants from your drinking supply before you consume it. Additionally, this product has a dual-function selector valve so that you can switch between filtered and unfiltered water depending on your preference.
Moreover, the high-efficiency 3-layer non-woven fabric filter will remove any impurities or contaminants from the water while the stainless steel outlet pipe ensures no leaking occurs during use. The ergonomic design provides comfort when handling and makes it easy to use in all situations. This purifier is perfect for everyday home use as it gives you peace of mind knowing that what's coming through your tap is safe and healthy to drink.
All in all, with its modern design and efficient filtration system, I would highly recommend investing in the Joven JP200 Water Purifier! Not only does it give you access to cleaner drinking water but also offers ease of use due to its ergonomic design making sure it fits comfortably in any kitchen setting or even outdoors when needed! So be sure not to miss out on this great opportunity today and get yourself one now!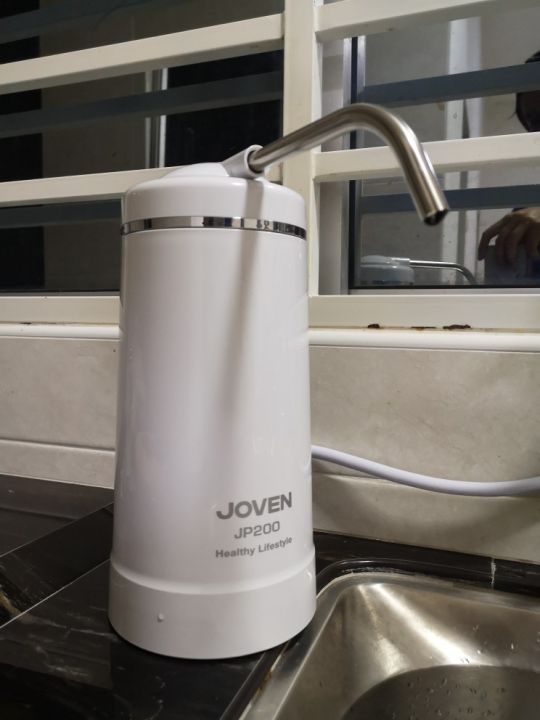 Pros:
Removes contaminants such as chlorine, rust & heavy metals to ensure clean and safe drinking water
High-efficiency 3 layers of non-woven fabric filter ensure maximum filtration performance
The food-grade plastic construction makes it perfect for home usage
Cons:
Small branch pipe size for effective water flow
Check Prices on Lazada
Check Prices on Shopee
2. Panasonic Water Filter TK-CS10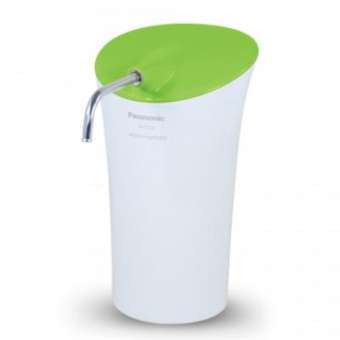 Easy to Install
The Panasonic Water Filter TK-CS10 is designed to provide families with clean and healthy drinking water right at their fingertips. With its 6.5 litre/minute filtering capacity, it can filter out 95% of residual chlorine in just one minute – making it ideal for those who need refreshingly pure drinking water quickly! Along with this, the powdered activated carbon filtration provides deeper purification, while the non-woven fabric further helps to thoroughly remove impurities from your drinking water supply. Furthermore, its impressive cartridge life of 12,500 litres for residual chlorine removes the hassle of having to constantly switch out replacement cartridges on a frequent basis.
For families who are health conscious or simply looking for great-tasting drinking water on demand – this product is something that should be considered. Not only does it offer fast filtered results without sacrificing quality – but you can rest easy knowing that you're getting clean and delicious drinks each time without any nasty contaminants entering your system. The Panasonic Water Filter TK-CS10 will make sure that whatever drink you choose will always have the best taste possible!
If clean and safe drinking water is important to you then don't hesitate and get yourself a Panasonic Water Filter TK-CS10 today! Its high-performance features are sure to leave you satisfied every single time – plus its long-lasting cartridge life ensures value for money as well as peace of mind when needing safe hydration in an instant! So don't delay any longer– do yourself (and your family) a favour by investing in better-quality filtered drinks straight away!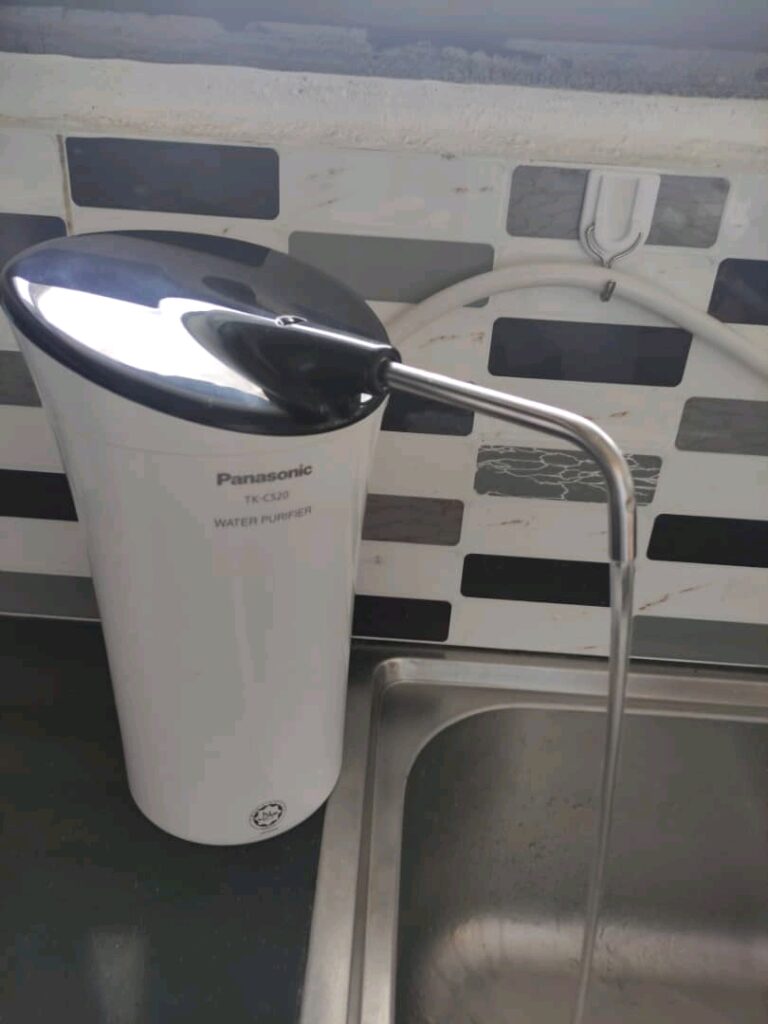 Pros:
Filters out up to 95% of residual chlorine in water
Reduces bad taste, odours and colours from tap water
Contains powdered activated carbon for superior filtration
Cons:
Requires frequent cartridge replacements
Check Prices on Lazada
Check Prices on Shopee
3. Panasonic Water Filter PJ-5RF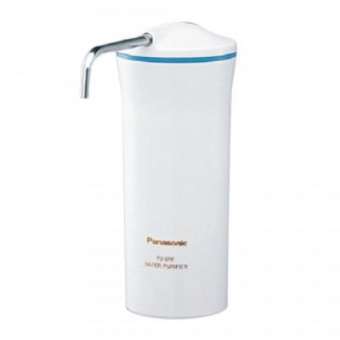 Compact Design
The Panasonic Water Filter PJ-5RF is an innovative and reliable water filtration system designed to give you perfectly clean, safe, and healthy water. It features powdered activated carbon filtration technology that helps provide an excellent filtering capacity of 5L/min with a minimum water pressure of 40 kPa – 300 kPa. This filter also has a 10,000 L residual chlorine reduction efficiency as well as an 8,000 L turbidity reduction efficiency so you won't have to worry about any unwanted chemicals or contaminants in your drinking water.
The Panasonic Water Filter PJ-5RF provides more than just pure drinking water; it also gives the user peace of mind knowing their family is drinking clean and safe water every day. Additionally, this filter takes out all kinds of particles from bacteria to sand making sure your home's piping system remains clear and free from clogs or blockages. Installation for this unit is quick and easy so it can start working immediately without hassle or need for professional help.
3 With its advanced technology and capability in delivering purified drinking water filtered through powdered activated carbon filtration technology at only 5 L/min., the Panasonic Water Filter PJ-5RF ensures that the whole family will be provided with clean and healthy H20 constantly! If you want a high-quality yet affordable solution for having fresh drinkable liquid then this product should definitely be on your list – one purchase could save you money over the course of many years while protecting your health!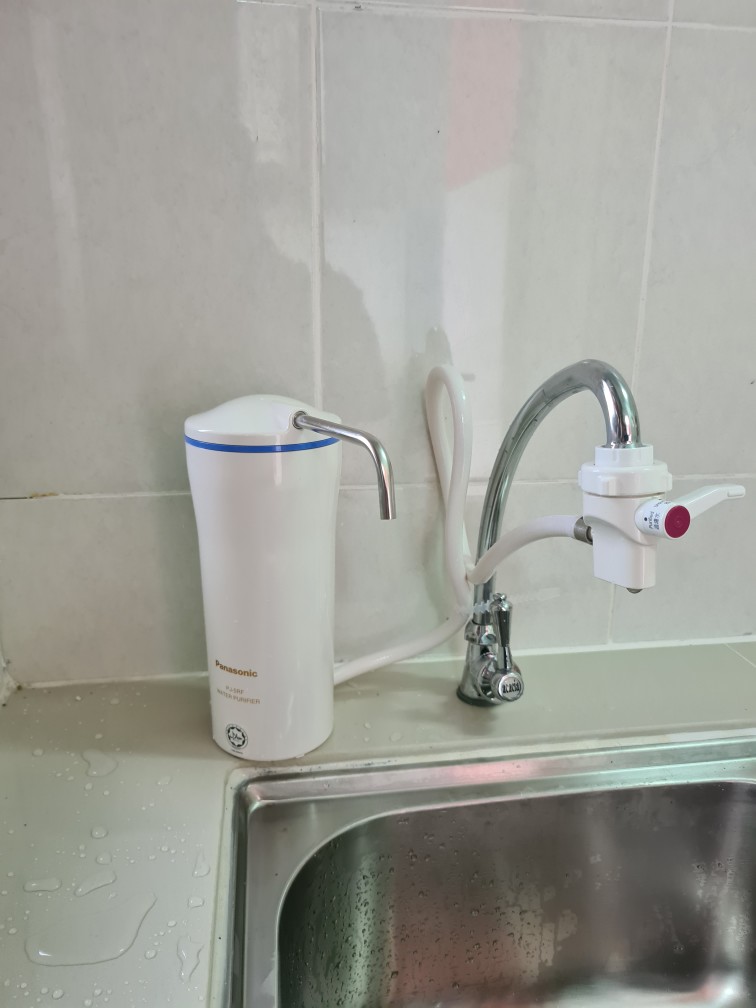 Pros:
Removes up to 95% of residual chlorine for clean and safe drinking water.
Reduces turbidity by up to 90%, giving you crystal-clear water.
A replaceable cartridge ensures the filter remains effective over time.
Cons:
Expensive replacement cartridge
Check Prices on Lazada
Check Prices on Shopee
4. AQUASANA AQ-5300+CT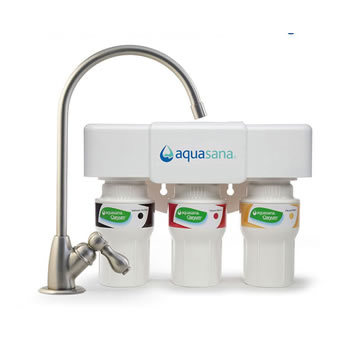 Remove Heavy Metals
The AQUASANA AQ-5300+CT is an innovative water filtration system that provides some of the best water purification available on the market today. The system uses a 5-stage process to remove up to 99% of common pollutants, while also eliminating harmful heavy metals like lead and asbestos. It's certified by NSF/ ANSI Standard 42, 53, 401 and P473 – making it one of the safest drinking water systems available.
In addition, not only will this system help protect your health but it will also make sure you get all the essential minerals into your body without sacrificing taste or performance. Retaining beneficial minerals such as calcium and magnesium in its filtration process helps keep you healthy with no added chemicals or contaminants in your drinking water. Plus, its highly advanced technology is capable of reducing more than 70 contaminants including Cryptosporidium & Giardia – which makes for clean and refreshing purified water every time!
For anyone who's looking for an efficient yet affordable way to purify their drinking water at home – AQUASANA AQ-5300+CT is definitely worth considering! Not only will you get superior quality filtered water but you'll also be able to rest assured knowing that even after several years of use, this device won't lose its effectiveness over time like other products do. So why wait? Get yourself this powerful filter today and enjoy healthier living!
Pros:
Protects users from health and environmental impacts
Removes more than 70 contaminants including lead
Standard 42, 53, 401 and P473 certified filtration system
Cons:
Does not filter out fluoride
Check Prices on Lazada
Check Prices on Shopee
5. 3M Aqua-Pure CTM02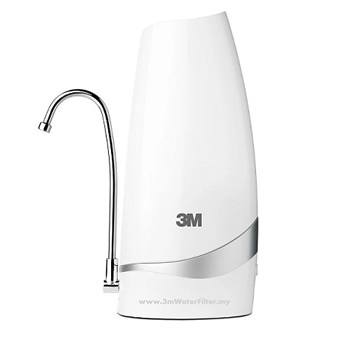 Better-tasting Water
If you are looking for quality drinking water, the 3M Aqua-Pure CTM02 is an excellent choice. It offers a remarkable filtration efficiency of up to 14K glasses or 8 litres per minute, certified by NSF Standards 42 and 53 for optimal performance levels. Plus, its unique design with a cartridge life indicator will ensure that you always get fresh and healthy tasteless water without any hassle of complicated installation or maintenance procedures – just simple countertop installation with no drilling required!
One of the most satisfying things about this product is that it exceeds expectations when it comes to quality filtration results. It takes out common impurities such as chlorine taste/odour, and fine sediment particles and leads from your tap water so that you enjoy clean and great-tasting drinking water each time! Additionally, its futuristic design adds aesthetical appeal to your kitchen decorating style as well – all in all making this product stand out among other similar products in the market today
With unbeatable features such as a high filter efficiency rate, user-friendly system design and easy installation process; there's absolutely no reason why anyone wouldn't opt for the 3M Aqua-Pure CTM02 over other products if they have been considering investing in a new drinking water system already! Don't wait anymore; go ahead and make sure your family enjoys crisp refreshing glassfuls of safe drinking water every single day by ordering one right away!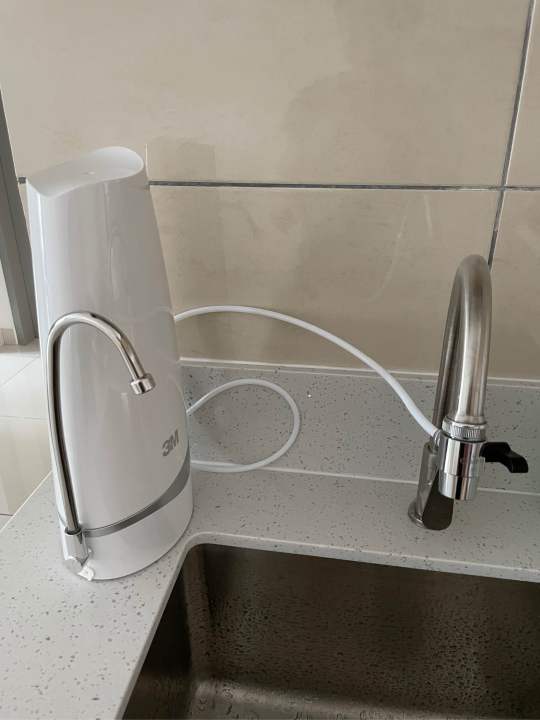 Pros:
Removes 99% of lead, cryptosporidium, as well as giardia cysts.
Reduction of sediment for clearer water.
Provides safer drinking water by reducing harmful contaminants such as possible carcinogens (THMs), sediments, and other substances not visible to the naked eye.
Cons:
Check Prices on Lazada
Check Prices on Shopee
6. Panasonic Water Filter PJ-225R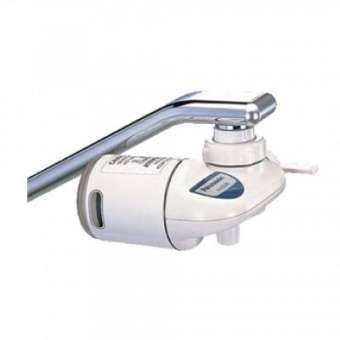 High Filtration Capacity
The Panasonic Water Filter PJ-225R is a great way to ensure that your drinking water is free from harmful toxic particles. It's easy to mount on any kitchen or bathroom faucet, making it a hassle-free solution for home water purification. This filter also features Granular Activated Carbon filtration technology which removes 99% of residual chlorine and other impurities from the water. Additionally, its 2 L/min filtering capacity ensures that you get all the clean and pure drinking water you need without waiting too long in between refills.
Not only does this filter provide superior protection against pollutants but its easy cartridge replacement system makes regular maintenance quick and simple too! With model no P-225JRC, it takes only minutes to replace old filters with fresh new ones – meaning you can have peace of mind knowing that your family always has access to healthy drinking water at home. Furthermore, since it requires no plumbing installation; anyone in your household can handle replacing cartridges easily enough!
In conclusion, Panasonic's Water Filter PJ-225R has proven itself to be an excellent choice for keeping tap water safe for consumption without compromising convenience or ease of use! If you're looking for an affordable yet reliable option when it comes to effectively purifying the household's drinking supply – then this one should definitely be at the top of your list when shopping around! So pick up this product today and start enjoying healthier hydration in every glass!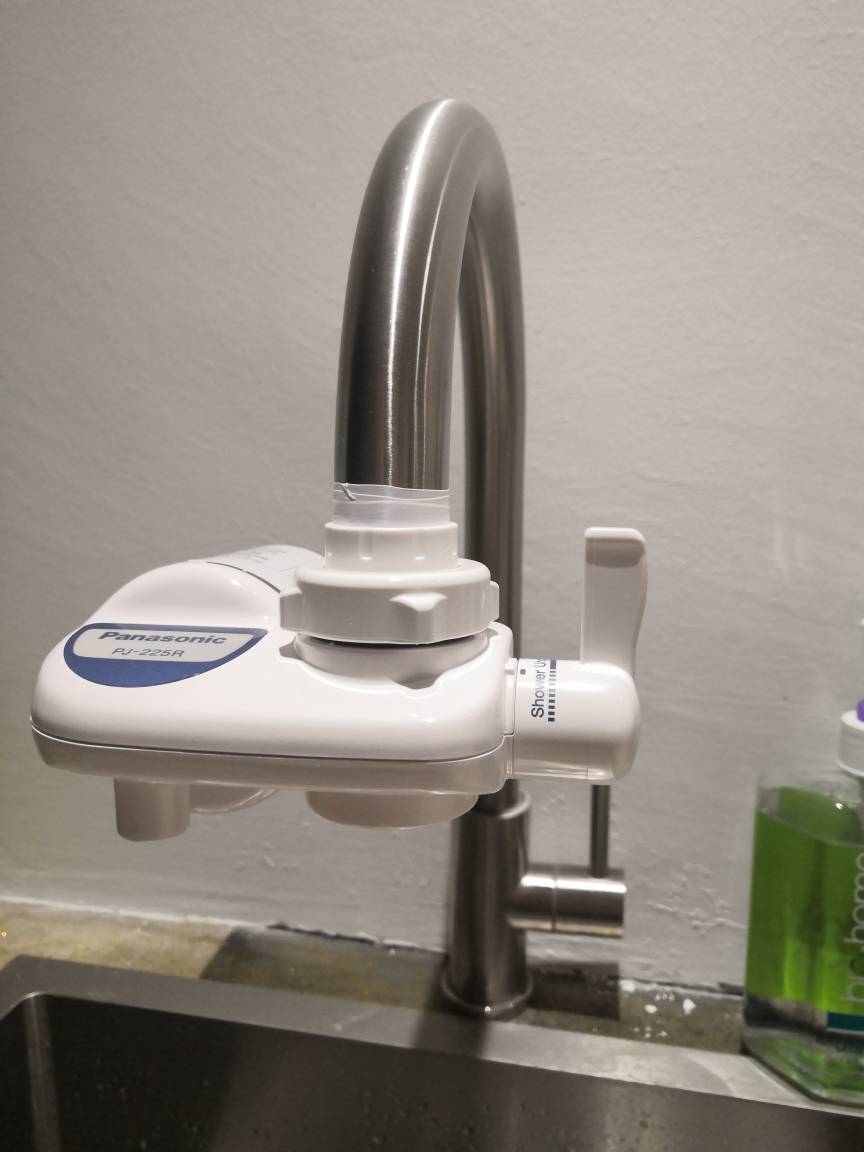 Pros:
Quick and easy installation onto your faucet
99% residual chlorine removal for healthier drinking water
Shower/stream selector lever for convenience
Cons:
The filter is not designed for large water consumption.
Check Prices on Lazada
Check Prices on Shopee
7. JINGEN JN-UF-05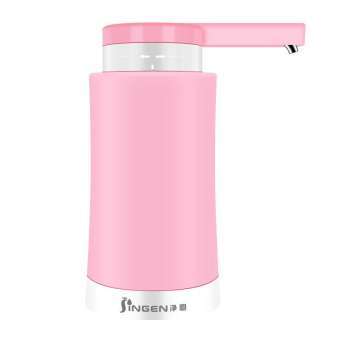 UF Membrane Filter
The JINGEN JN-UF-05 is an easy DIY desktop water purifier that could make life easier and healthier for anyone who wants pure, clean drinking water. It utilizes two separate filter cartridges – an activated carbon filter and an ultrafiltration membrane filter with a PP cotton net filter, which keeps the internal parts of the product more hygienic and safer than ever before. Its 360-degree turntable stainless steel water output pipe allows for easy installation while its switching connector helps to connect it directly to any faucet in no time at all.
With this product, there's no need to worry about buying expensive bottled water that takes up too much space in your home or office; you can now get healthy drinking water from your tap without having to buy extra containers or refills every other day. Furthermore, since you don't need replacement filters as often as you would with traditional filters due to the two separate cartridge systems used by this product, it saves a lot of money over time – something that everyone can appreciate!
All said the JINGEN JN-UF-05 is simply a great desktop water purifier that ensures safe drinking water whilst making sure not to break the bank doing so. Whether you are looking for convenience or just trying to save some money on costly bottled water – this affordable device could be just what you're looking for! Don't wait; enjoy improved health today with great-tasting pure drinking water from the comfort of your own home by getting one now!
Pros:
Removes bad odours, chlorine, ozone, pesticide & harmful organic substances
Removes particles as small as 0.01 microns & maintains mineral substances in water
360-degree turntable stainless steel water output pipe for easy access to clean water
Cons:
It may be not suitable for a large family as it only provides 200 litres of filtered water per hour.
Check Prices on Lazada
Check Prices on Shopee
Factors to Consider When Choosing a Water Filter
Choosing a suitable water filter for your home or office can be overwhelming but understanding the various factors to consider when making the decision can help ensure that you get the best value for money. Read on and find out more!
Price
When selecting a water filter, it is important to consider the cost. Depending on your budget and requirements, there are many options available in various price ranges. Generally speaking, reverse osmosis systems tend to be more expensive than carbon filter systems or ultraviolet light filters due to their complex design. Likewise, water softener systems can also be costly depending on the space required for installation and other related costs such as additional pumps or valves needed. It is therefore important that you weigh up all of your options before making a purchase decision so that you get the best product at the most competitive price possible.
Durability
Durability is a very important factor to consider when you are choosing a water filter. You must make sure that the product that you choose will be able to last for a long time and withstand wear and tear. The materials used in making the filter should be of high quality, so as not to pose any potential hazards or health risks due to their breakdown over time. Additionally, if your family makes use of large amounts of water, then perhaps investing in more robust filters with higher capacities would prove beneficial. Furthermore, you should also check on what type of maintenance is required for the chosen filter – it will help greatly in ensuring its longevity and efficiency throughout its lifespan.
Capacity
When choosing a water filter for your home, one of the most important factors to consider is capacity. Water filters come in a variety of capacities ranging from 3 litres per minute up to 20 litres or more. Depending on the size of your household and how many people in it rely on filtered water, you will want to purchase a filter system with an appropriate capacity that can meet your needs without running out too quickly. The smaller sizes are ideal for single-person households while larger families would benefit from larger systems that provide an adequate supply of clean drinking water at all times.
Maintenance
Maintaining a water filter may vary depending on the type of filter you own. Generally, it would require cleanings or replacing individual parts over time, such as sediment filters, carbon block filters and RO membranes which need regular replacement. Additionally, some electronic components like UV lamps should be replaced yearly to ensure maximum performance from your system. A maintenance plan is especially essential for people with high levels of contamination in their water supply or who have extremely hard tap water. Properly maintaining these systems can guarantee safe and clean drinking water while helping you save money by avoiding costly repairs down the road. Therefore, it is important that you have an understanding of what kind of maintenance will be needed when choosing a new filtration system so that it runs efficiently throughout its lifespan
Type of Filter
When considering the types of water filters available on the market, there are four main categories to choose from. The first type is a Reverse Osmosis system which passes water through several levels of filtration that remove impurities and contaminants. A Carbon filter system uses activated carbon to absorb chlorine, lead, and other chemical pollutants in tap water before they enter your home's plumbing system. An Ultraviolet light filter kills viruses, bacteria, moulds and parasites by using ultraviolet radiation technology. Lastly, a Water Softener System helps to reduce soap scum buildup from hard water by removing minerals like calcium and magnesium in exchange for salt particles present in the softened state of the water it purifies. Consider all these types when deciding what type of filtration will best suit your needs for clean drinking or household use.
Conclusion
When it comes to choosing the best water filter for your home, it can be overwhelming to know what type and brand is right for you. Fortunately, this review of the 7 Best Water Filters in Malaysia – 2023 should help make the decision-making process simpler. Ensure that you take into account all factors before investing in any unit as each product will vary depending on its own unique features and advantages. Ultimately, think about factors such as price, durability, capacity, maintenance requirements and type of filter so that you are sure to consider your needs while selecting a suitable water filter system!